The producers of Maafa 21 have created a new powerful card to spread the word about how abortion plays a major role in a genocidal effort aimed at minorities – primarily African-Americans.
Life Dynamics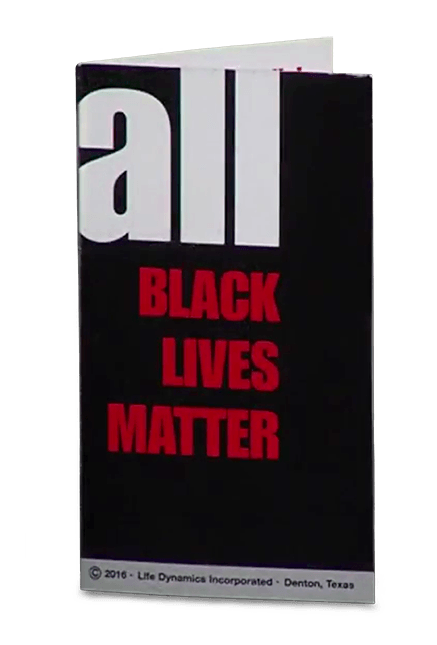 president, Mark Crutcher, created the card in response to multiple requests for another portable hand out presenting the facts about eugenics. Since the film's release, Life Dynamics has offered the Maafa 21 action card that helps fans spread the word about the documentary film.
Produced with activists in mind, the new card's innovative design allows it to be small enough to carry around and pass out – but contains a shocking amount of information.
The words "All Black Lives Matter" is printed boldly on the front, and opens like a brochure to reveal a message encouraging others to watch Maafa 21.
The new All Black Lives Matter card was debuted at the 2016 NAACP convention by pro-life activists. Despite being small, those who are using it are saying that the cards are "extremely effective."
The cards are sold in packs of 100 for $25. Those wishing to order the cards may do so online here on the Life Dynamics website or by calling (1800)800-5433.
Hear what others are saying about the new All Black Lives Matter Card:
The New All Black Lives Matter Cards From Life DynamicsLife Dynamics has a new #prolife action card! Introduced on Life Talk, our new "All Black Lives Matter" card has already been used by our friends at Sisters for Life Organization and L.E.A.R.N.

You can now order these new cards in packs of 100 at: https://lifedynamics.com/product/all-black-lives-matter-cards/

#BlackLivesMatter #AllLivesMatter #EndtheGenocide

Posted by Life Dynamics, Inc. on Wednesday, August 3, 2016